Wohlfühltherme - thermal baths for well-being
Thermal landscape
Each of the four indoor and two outdoor pools has the purest water enriched with valuable and healthy minerals.
Dive in and let your soul relax in pleasant waters with temperatures ranging from 28 to 36°C.
Do something good for yourself, your health and your body.
Enjoy superior water quality because, in addition to being enriched with brine, you can also bathe in the revitalized GRANDER® water, which leaves your skin remarkably soft and leaves you with a particularly pleasant feeling of well-being.
Thermal salt pool
Healthy bathing in a Mediterranean atmosphere with real health benefits.
Salt baths with a content of 3-5% (saline solution) are used as a proven remedy for the treatment of numerous diseases. Salt content 3-5%, water temperature 36°C. Baking soda is considered a real source of youth and has a beneficial refreshing effect, gives the skin a youthful appearance, and thanks to its stimulating effect on metabolism, promotes weight loss.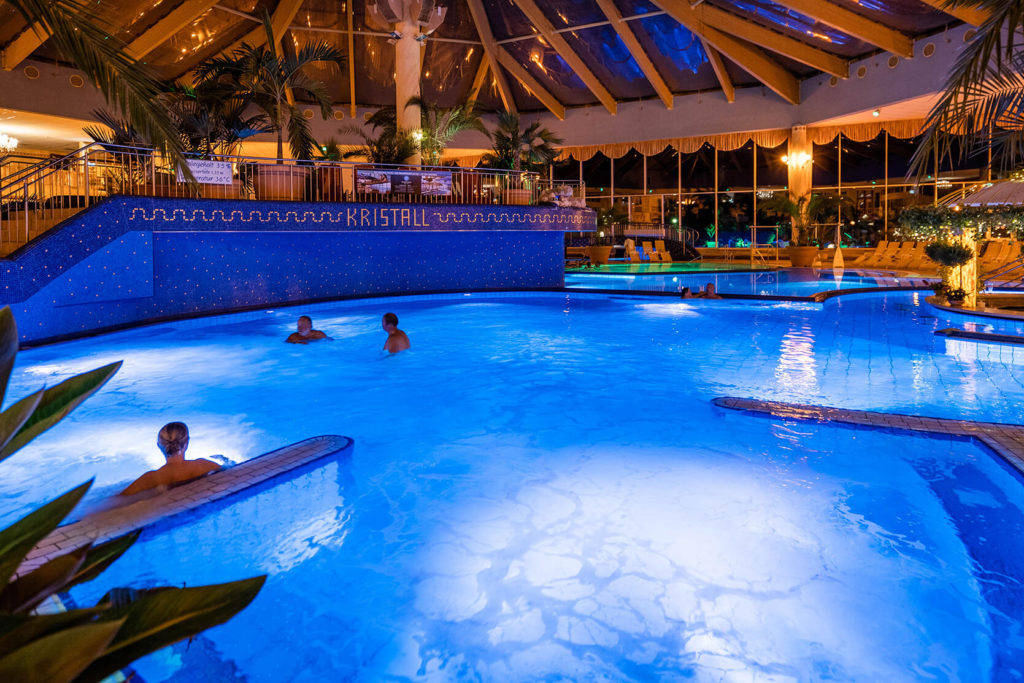 There is a fresh water pool with a temperature of 28°C, with sea water, the quality of which has a positive effect on the condition of the skin, respiratory tract and musculoskeletal system. In the indoor pool with thermal water, you can also explore the magical grotto based on the Blue Grotto in Capri . Their reflection in the water creates an amazing atmospheric atmosphere.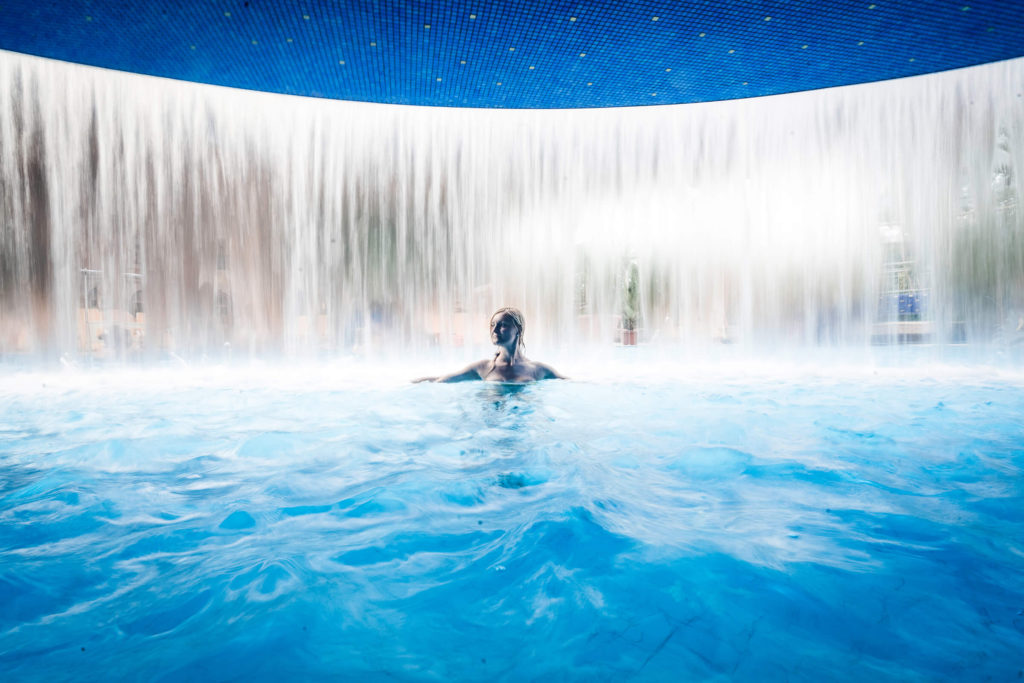 Sit on one of our many bubble benches and enjoy the soothing sensation of a jacuzzi with its circulation-stimulating massaging effect in a sense of weightlessness.
The pool has a bar to enjoy refreshing drinks in warm water. It is a meeting place in the middle of the pool that invites young and old to linger and socialize.
The outdoor pool with natural healing salts and water that has a buoyant effect similar to a soothing bath in the Dead Sea. Sea water promotes healthy skin, joints and muscles, as well as stimulates metabolism and improves the surface of the skin.
In the "gentle brine" of the pool, you can relax all year round in the open air. Wave jets massage the neck and back. The water temperature is about 33°C. A strong current strengthens the muscles. In the dark, the flow channel is romantically illuminated. For the well-being of our guests, about 100 massage jets are built into the bottom of the pools, which provide a pleasant massage again and again.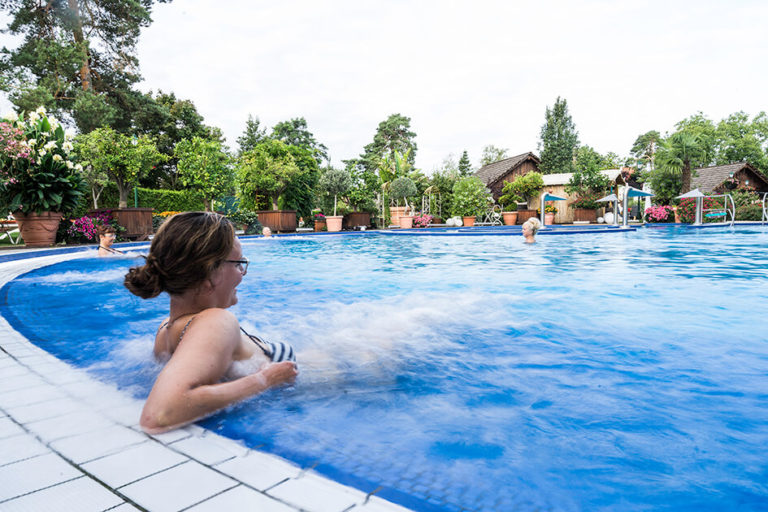 The complex also hosts free water aerobics courses for 30 minutes: on Mondays at 13:30, 15:30 and 17:30, on Wednesdays at 11:30, 13:30, 15:30 and 17:30, on Fridays at 13:30, 15:30. and 17:30, on Saturdays at 13:30, 15:30 and 17:30, and on Sundays at 13:30, 15:30 and 17:30.
Contacts
🗺️ Ostverbinder 10
D-14974 Ludwigsfelde
🌐 kristall-therme-ludwigsfelde.de
📲 Phone: 03378 / 518790 Fax
: 03378 / 5187933
📧 Email: info@kristall-therme-ludwigsfelde.de
Swimming and Health Center Kristall Ludwigsfelde GmbH
Wohlfühltherme on the map
Wohlfühltherme, Ludwigsfelde on the map