Therme Bad Steben - Bavarian baths
Welcome to the wellness world of Therme Bad Steben.
The exclusive wellness oasis captivates with its stylish architecture, which harmoniously combines tradition and modernity.
Let yourself be pampered from head to toe in a wellness oasis in the heart of the Frankenwald Nature Park.
Discover a diverse water world, take a deep breath of soothing infusions in the idyllically designed sauna or strengthen your circulation and immune system in the lagoons and pools of the Medical Wellness Center - the Wellness Dome.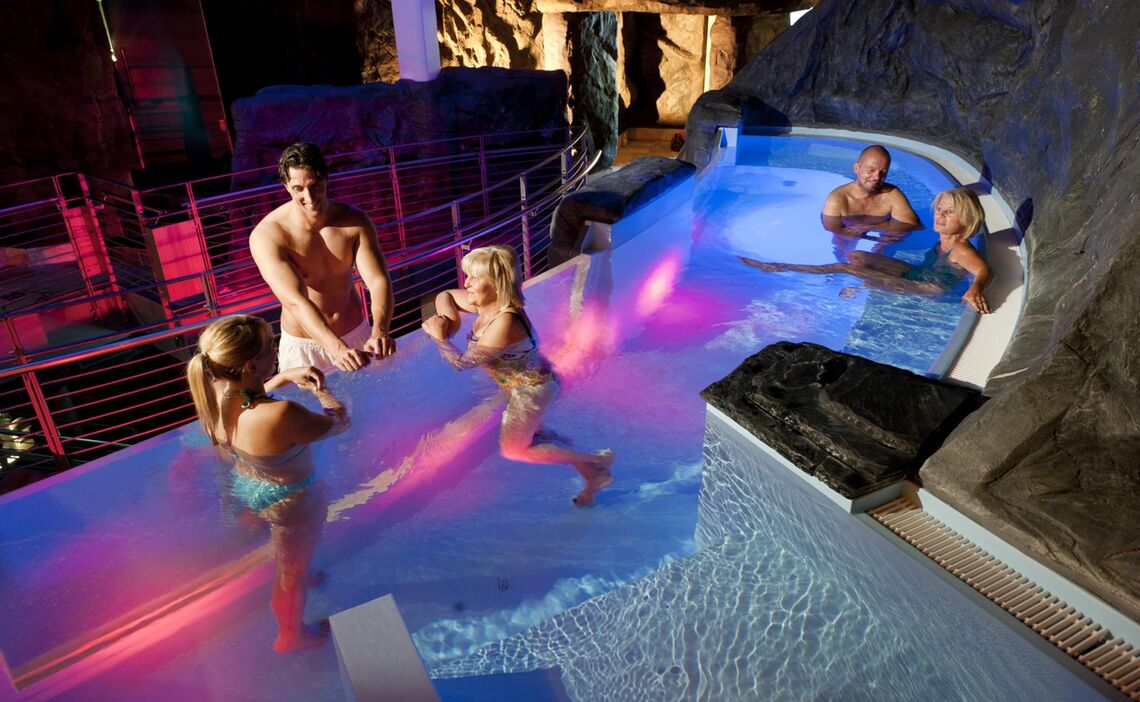 Pure desire for well-being
Feel, smell, see, listen and taste the desire for health and let the wave of vitality carry you away. In the intoxication of feelings, much can be discovered. Immerse yourself body, mind and soul.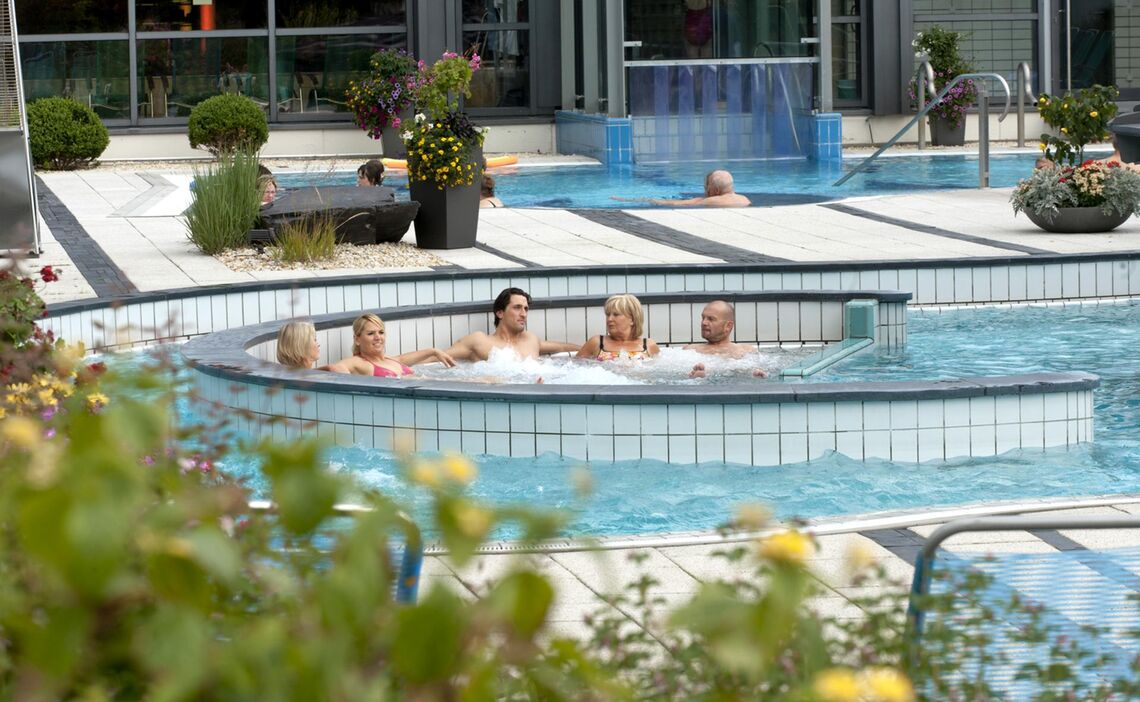 Immerse yourself in aquatic worlds
The heart of the Bad Steben thermal baths is the large bathing hall, which is visible from the foyer. The 15-metre stainless steel bubble snake and 36°C hot tub provide a variety of bubbling bubbles - a living invitation to swim and relax. Outside, a 36°C salt pool with massage jets, neck showers, bubble loungers and a large geyser awaits, while champagne loungers amid a vast flow channel invite you to a tingling underwater massage. Other attractions are the Pavilion of Senses and the Pavilion of Hearing. In the "Pool of Light and Sound" Music and sound merge - above and below water - into a holistic experience as you are immersed in the fantastic atmosphere of sound, resonance and laser effects in the Echo Tower. The "Pavilion of the Senses" transports visitors to "tangible" worlds of experience with a mystical steam grotto made from local slate and tropical waterfalls.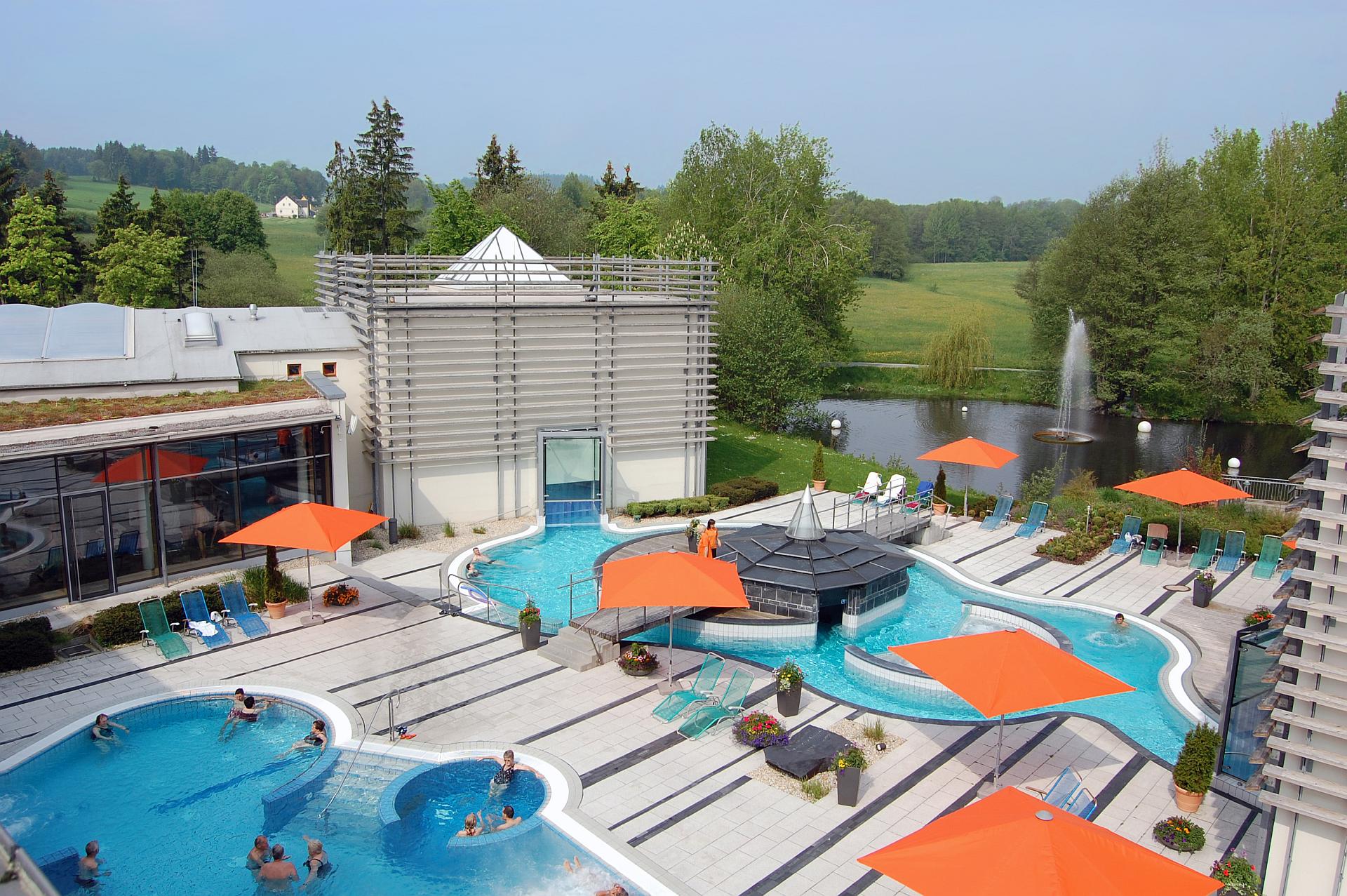 Terme Bad Steben is 1000 sq.m. water surface, 7 saunas and steam baths, 10 relaxation areas in the sauna.
Sit back in the warm 30°C water and let yourself splash in the swirling waves of the stream - what could be more enjoyable and stimulating? Let yourself be enchanted by the sounds and light effects in our water worlds.
A visit to the Bad Steben thermal baths is a short break for your senses. A variety of attractions in the water worlds will bring real pleasure from swimming. The gentle changes of color and light in the large bathing hall are a balm for the soul, and you will feel like you are in a distant paradise in warm waters with a temperature of 30°C. Our unique outdoor area with salt pool, flowing channel, soothing massage shower and massage loungers equally contribute to the special experience. It all culminates in our two highlights: the Senses Pavilion and the Hearing Pavilion. Here you will be transported into a fantastical, tactile world of sensation - your senses will be stimulated above and below the water.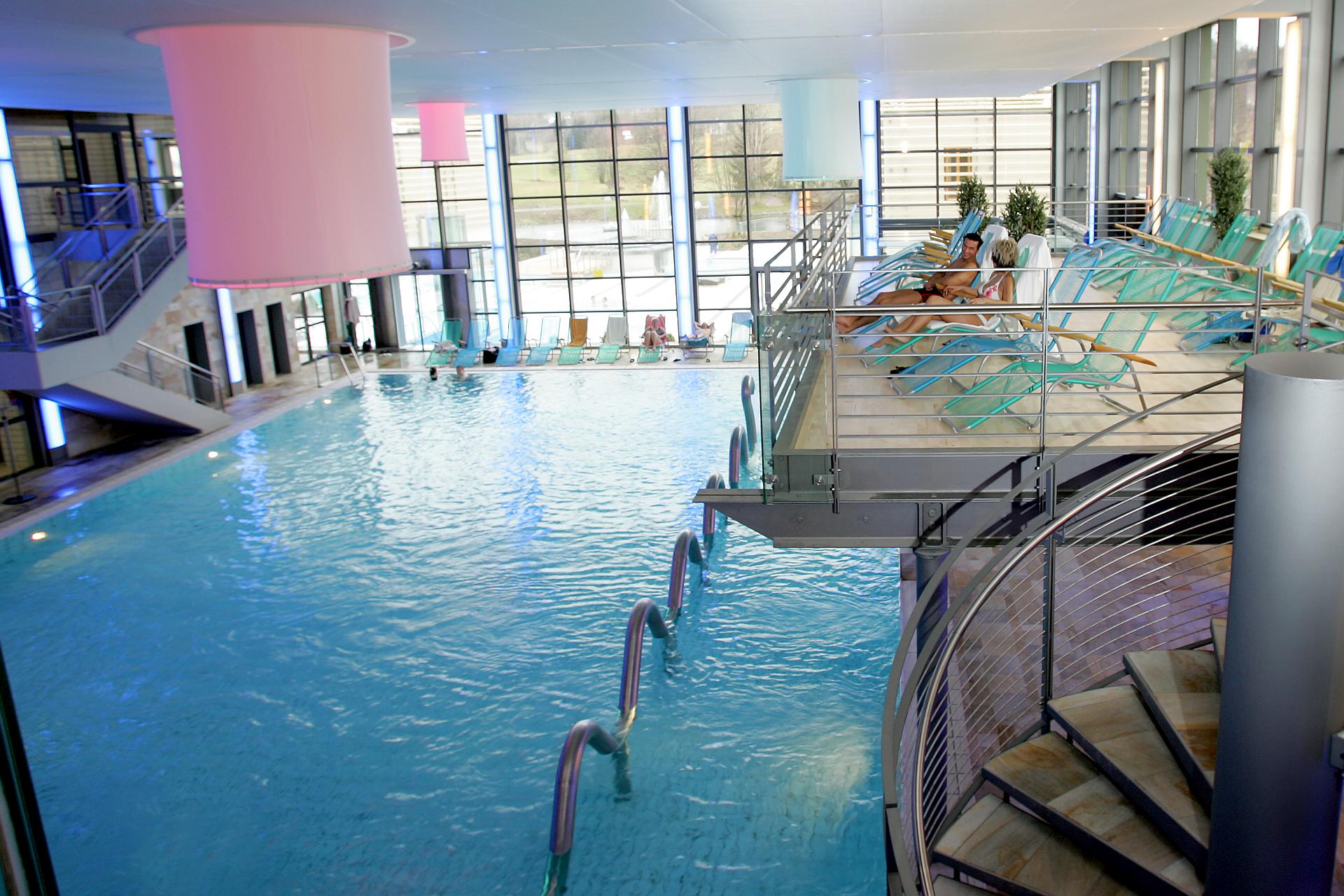 Panoramic sauna in the Kelo log cabin and sauna pavilion.
Original Finnish Kelo log cabins and local slate give the idyllically designed sauna area a unique and inviting charm, while a Japanese-style onsen hot pool forms the center of the sauna garden and invites you to mingle in the 40-degree hot water. A steam bath in the elegant event spa, a whirlpool bath in the pool overlooking the treetops of the resort park and a group infusion in the panoramic sauna round off an exciting day in the sauna.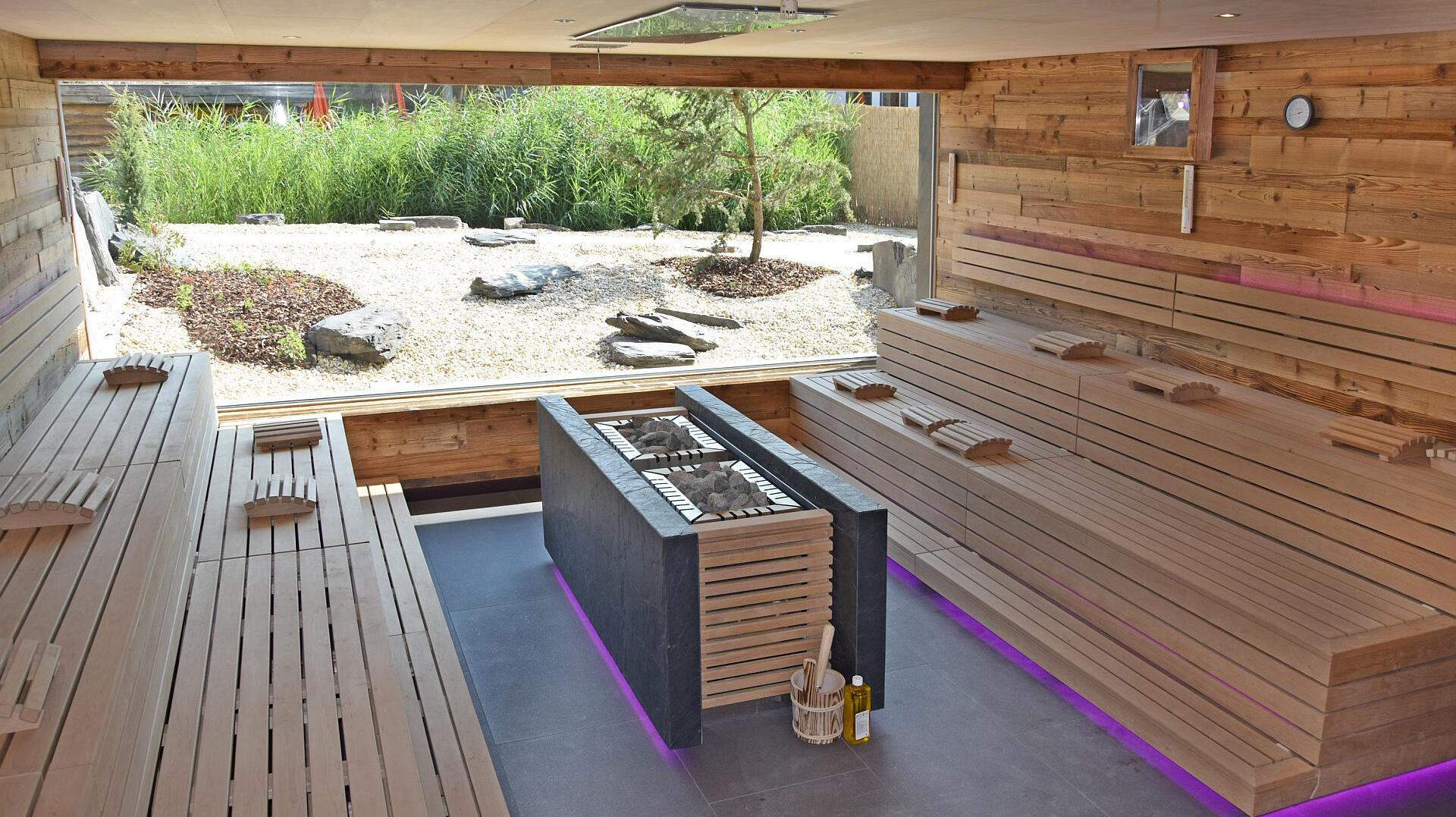 Sweat in the hot earth sauna, which reaches temperatures of up to 110°C especially near the floor, or take part in the Weniks ritual in a classic Finnish hot sauna at 80–85°C and then cool off on the panoramic balcony. The organic herbal sauna with a temperature of 55–60°C and light therapy offers a gentle and healthy alternative to the hot and dry Finnish sauna. Feel how the herbal steam unfolds its healing effect. The large panorama sauna and the panorama relaxation room on the upper floor offer a particularly beautiful view of the lovingly landscaped sauna garden with natural swimming pond and sun terrace.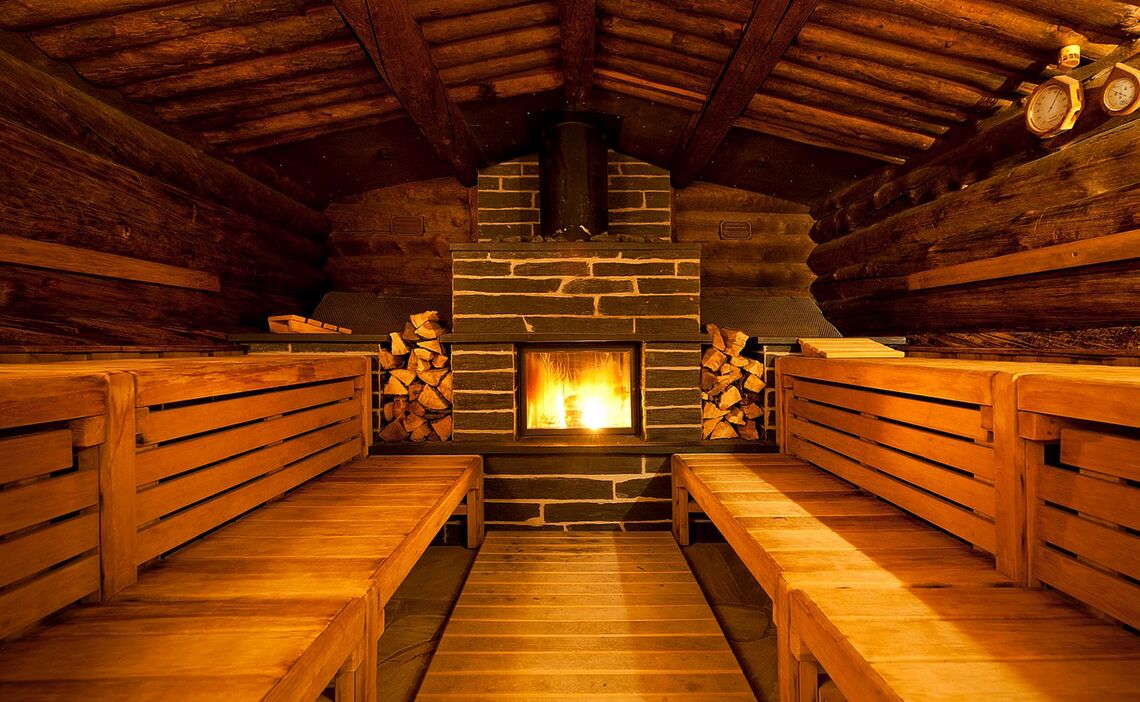 Saunas of the complex:
---
Finnish sauna on fire
95 - 105 °C
A cozy hot sauna on the top floor of an apartment building with balconies is a place of inner peace and deep relaxation, often used for short sauna sessions in between. In the middle of a rustic room made from mighty wooden trunks, a noble slate fireplace glows and crackles, providing a hot and dry temperature. In this romantic atmosphere of an alpine hut, Venix ceremonies are also held according to the Russian model - from Monday to Thursday at 18:00.
---
Infusion sauna
85 - 95 °C
The infusion sauna is the meeting point at Saunaland. Most of the hourly infusions are noted here. Here, too, the black gold of the Franconian forest is omnipresent. A powerful hexagonal infuser framed by precious slate slabs in the center of the room creates a beautiful color contrast with the vibrant rich aspen benches. Meanwhile, the bath attendants are looking forward to the aromas from the bath attendant's ladle and his ability to wave a towel.
---
Earth bath
100 - 110 °C
The hottest sauna in Bad Stebener Saunaland is built entirely according to the Finnish model. The blazing, loudly crackling fireplace with rustic black slate walls allows temperatures to reach over 100°C, an absolute must for all die-hard fans of the wonder of sweaty pleasure. The Earth Sauna is the smallest of Kelo's four log cabins in Saunaland. It has a covered veranda where hot tea is served.
---
Organic herbal sauna
55 - 60 °C
An ideal place for all sauna lovers who do not like or cannot tolerate such heat. An impressive brewing stove with massive granite stones divides Kelo's cozy home into two separate nooks for restful sleep. Infused, wonderfully aromatic natural herbs allow you to take a deep breath and create a unique indoor climate that distracts the body and mind from everyday life, accompanied by a gentle change of warm light tones.
---
Panoramic sauna
85 - 95 °C
The most impressive Kelo log cabin in Bad Steben's sauna area uses fine Finnish sauna wood to create a spacious panoramic sauna that can accommodate up to 60 people - a masterpiece of wooden design. In the Finn hot sauna, with a temperature of 85-98°C, sauna masters celebrate relaxation infusions with 100% natural essential oils and aromatic changes, as well as infusions for shows and events, accompanied by soft music from a high-quality sound system and a mystical mist in the room.
---
Aromatic steam bath
45 - 48 °C
The aromatic steam bath, modeled after a hammam, with a room temperature of 45–48°C offers a welcome, less hot alternative to regular sauna sessions. The visitor sits on benches made of noble slate, which wonderfully warm the body, aromatic vapors clear the respiratory tract, and the skin is pleasantly caressed by water pearls.
---
Spa for events
45 - 48 °C
In the stylish setting of a slate room, completely painted black, accommodating up to 60 people, sauna guests will enjoy steam treatments with constantly changing aromas, perfectly accompanied by slowing color and light therapy. Highlights include Bad Stebener salt peels, made with sea salt, organic oils and freshly ground spices from the original Tyrolean herbal mill. Additional accents in the interior were placed with ornate patterns on glass partitions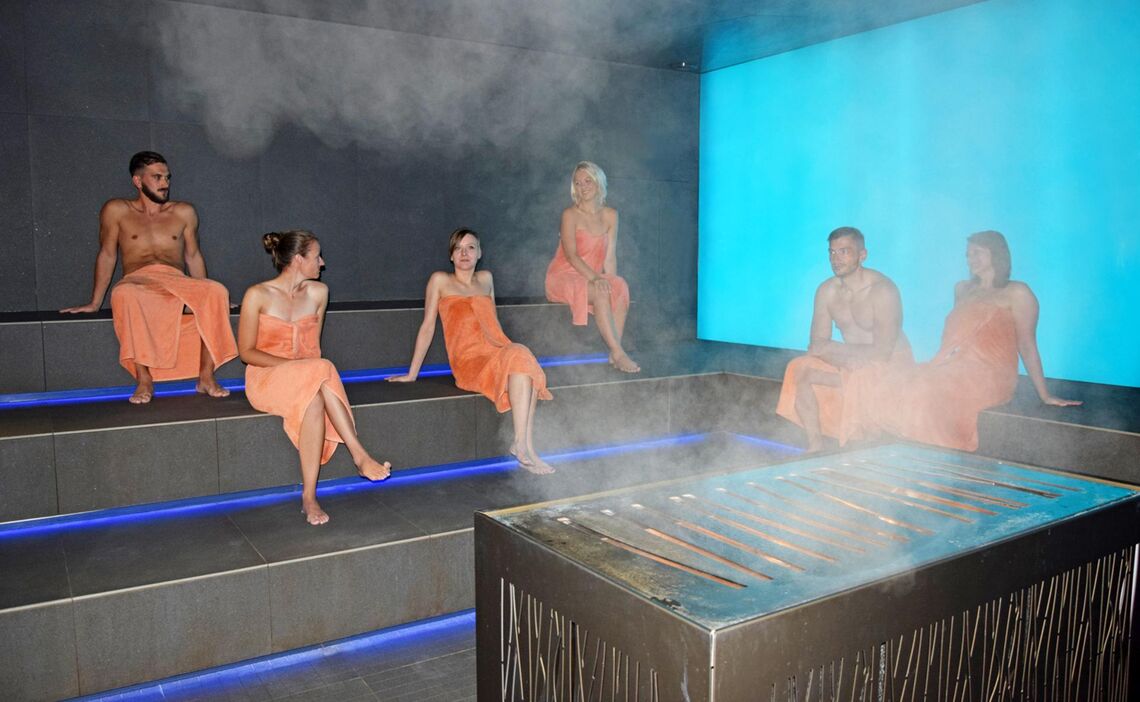 Baby swimming (from 16 weeks)
Every Tuesday – at 10:15 and 11:30 – the Bad Steben thermal baths offer young parents a popular children's swim session, followed by a children's massage.
Entry from 9.45 or 11.00 - course starts at 10.15 or 11.30 (in Vital Hall).
Participation is limited to a maximum of 12 participants or children and one parent per child.
Registration by phone 09288 960-0 is required.
The course price includes a visit to the water world for 2 hours 45 minutes. For baby massages, we ask that you bring your own blankets or towels. Our range of courses is recommended for children from week 16 onwards.
Complex opening hours: daily from 9:00 to 22:00 - water worlds and from 10:00 to 22:00 Saunaland and Wellness Dome
Special prices apply to the following categories
People with severe disabilities of 50% or more pay the sanatorium-resort tariff
Those accompanying persons with severe disabilities (if they are included in the identity card) have free admission.
Groups (10 people or more) receive a discount
1.00 euros per adult and discount
0.50 euros per child
(applies to general admission only, not special rates or upgrades) .
Buses and tour groups
Find out about our special conditions by calling 09288/960-0.
Contacts
🗺️ Bayerisches Staatsbad Bad Steben GmbH Badstraße 31, 95138 Bad Steben
🌐therme-bad-steben.de
📲 09288 960-0 Fax: 09288 960-10
📧 info@staatsbad-bad-steben.de
Baths in Bad Steben on the map
All thermal baths and pools